October 7, 2020
The LEWIS® Steel Frame Concrete Floor (SCF) is a patented self-supporting floor system.
The floor system features prefabricated elements consisting of a closed steel frame of cold formed C-sections that have been cast into a reinforced concrete shell, this concrete shell also forms the ceiling slab for the floor system.
The steel frame features round openings so that pipes and installations can easily be incorporated into the floor. A LEWIS® Deck top floor is placed on the steel frame. Several removable floor zones can be incorporated into the top floor depending on the level of flexibility needed in the floor system.
The LEWIS® Steel Frame Concrete Floor makes it possible to achieve free spans up to approx. 15 meters.
In addition to being used as an intermediate floor, the floor system can also be used as an insulated ground floor.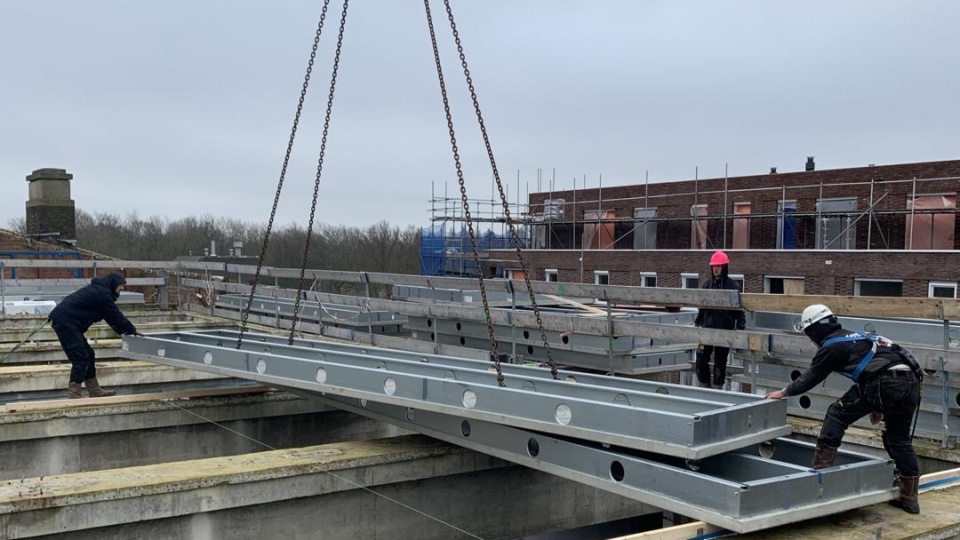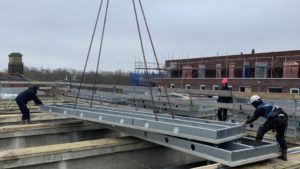 Top floor
A LEWIS® Deck floor is used as the sub-floor on top of the floor elements. This sub-floor allows for high live and concentrated loads and gives the feeling of a solid concrete floor. The LEWIS® Deck floor can be completed with a cementitious or gypsum-based screed.
For an optimal indoor climate in the building, it is possible to integrate underfloor heating into the LEWIS® Deck sub-floor. Depending on the intended purpose of the building, a completely dry floor finish can be utilised on floor elements. This floor can, for example, be made of cementitious board material.  A dry top floor is also the solution when 100% flexibility of the building is required within a short operating period due to a change of function or disassembly.
Lightweight floor construction
Foundation-related costs can be reduced in new-build projects because the LEWIS® Steel Frame Concrete Floor is very light. The low weight also makes the floor system very suitable for renovating building on existing foundations.